A pictorial exploration of the Dungeness Ruins at the southern end of Georgia's largest and southernmost barrier island.
A bit of background on this wonderful place:
James Oglethorpe first built on Cumberland Island in 1736, building a hunting lodge that he named Dungeness. The next Dungeness was the legacy of Revolutionary War hero Nathanael Greene, who had acquired 11,000 acres (45 km2) of island land in exchange for a bad debt. His widow built a four-story tabby mansion in 1803, over a Timucuan shell mound. During the War of 1812 the island was occupied by the British, who used the house as a headquarters.
In 1818 Henry "Light-Horse Harry" Lee, a dashing cavalry commander during the Revolutionary War and father of Robert E. Lee, stayed at the house until his death on March 25, 1818 cared by Greene's daughter Louisa, and was laid to rest in nearby cemetery with full military honors provided by an American fleet stationed at St. Marys, Georgia. The house was abandoned during the U.S. Civil War and burned in 1866.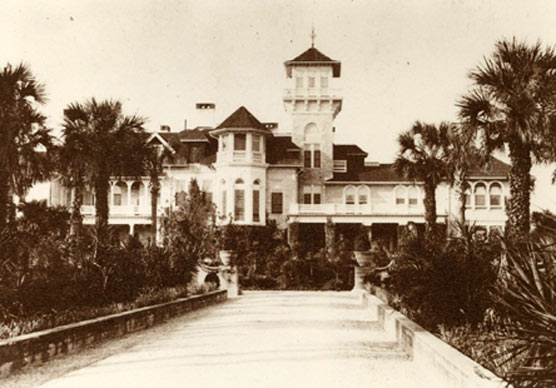 In the 1880s the property was purchased by Thomas M. Carnegie, brother of Andrew Carnegie, who began to build a new mansion on the site. The 59-room Queen Anne style mansion and grounds were completed after Carnegie's death in 1886. His wife Lucy continued to live at Dungeness and built other estates for her children, including Greyfield (now the Greyfield Inn) for Margaret Carnegie, Plum Orchard Mansion for George Lauder Carnegie, and Stafford – a sea island cotton plantation. By this time, the Carnegies owned 90% of the island. The Carnegies moved out of Dungeness in 1925. In 1959, the Dungeness mansion was destroyed by fire, alleged to be arson.
Now home to the island's most famous residents, the feral horses of Cumberland Island, the grounds are a reminder of a time gone by. The ruins are preserved by the National Park Service as part of Cumberland Island National Seashore much to the delight of travelers like myself.
Cumberland Island is an amazing place to explore with a camera.  The terrain is flat and easy to hike for the day.  The ruins are just a short walk from Dungeness Dock, the 1st ferry stop.  We walked the entire southern loop from Dungeness Dock to Sea Camp Beach to Sea Camp Dock with plenty of time to spare.
At Sea Camp Dock there are also a limited number of bicycles to rent. The concessionaire rents bikes on a first-come-first serve basis when ferry is at dock. Fee: $16.00 per person per day, $20.00 per person for overnight
Restrooms and water fountains are the only services on the island. Please remember  to bring a lunch and your own water bottles. The Ferry concession does sell some snacks such as crackers, candy bars, water and sodas but we still drank four bottles of water.
Stay hydrated! It is very important in a location this remote.
Where We Stayed:
Separate blog post forthcoming. (Spoiler Alert – We loved it.)
Rose- Lovell
:  A 1907 Historic Home located in the heart of the historic district of St. Marys, Ga. A traditional 'foursquare' design, and one of the first homes in the area constructed of an unusual type of block (known as granitoid, rarely seen in South Georgia). The home has five bedrooms, three full bathrooms, a formal dining room and comfortable living room. While the home has been modernized (central heating and air conditioning, modern kitchen, and more), one can still appreciate the original details of hardwood floors, large windows, dramatically high ceilings and two large porches – all surrounded by a half acre of camellias, azaleas, roses, magnolia, oak, camphor, cedar and persimmon trees, scuppernong grapes and a variety of other lush plantings.
I will definitely return to Cumberland Island soon. Tent camping at the Sea Camp Campground is high on my bucket list.
Helpful Links:
My Gear: